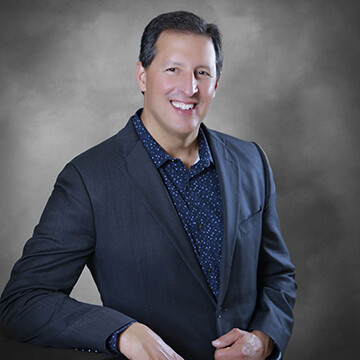 Senior Pastor Eric Soto
Meet Eric Soto, the lead pastor of Maranatha, a vibrant church community dedicated to inspiring positive change. Eric has a rich history in ministry, serving others with passion and unwavering commitment. Born and raised in Southern California, he joined our ministry in 1996, when it was located in South Gate, CA.
Eric's journey took an exciting turn when his father established a radio and television ministry, leading to the creation of a video production facility in Santa Fe Springs, CA. Recognizing Eric's talent and dedication, he was hired to direct the television program. Despite the challenges faced by the ministry, Eric's vision and perseverance helped it grow into the thriving evangelistic force it is today.
Despite his upbringing in a Christian home, Eric's personal journey was far from perfect. Like any other child, he experienced rebellion and sought happiness outside of God's embrace. His high school years were filled with misbehavior, and he pursued worldly pleasures, resulting in broken marriages and a growing sense of emptiness. However, in 1993, Eric rediscovered the joy of walking in alignment with God and recommitted himself to Christ.
In 1999, tragedy struck Eric's life when the life of his four-year-old daughter's Sierra Beth Soto was taken, while playing in a playground in Costa Mesa, CA. Instead of questioning God, Eric found solace in praising Him, knowing his daughter was now in the loving presence of the Lord. This tragic event deepened Eric's commitment to stand against the forces of darkness and lead others away from the clutches of evil.
A significant turning point came in 2003, when World Mission Maranatha opened a new facility in Bellflower, CA. Eric was entrusted with leading the Sunday High School ministry. He noticed that while many enjoyed attending church as a social function, there was a lack of genuine interest in exploring the teachings of the Bible, especially among the youth. Determined to make a difference, Eric took it upon himself to not only teach the Word of God but also ignite a thirst for spiritual knowledge.
Ordained as a Minister in 2004, Eric founded the English department, and in 2014, he assumed the role of General Manager, gaining valuable administrative insights. In 2015, Eric became the Senior Pastor of World Mission Maranatha, following his father's retirement, marking a new chapter in his leadership journey.
Eric's mission to bring positive change to the church, its members, and the community is an ongoing process. His motivation to encourage others to embrace Christ grows stronger with each passing day. Through his dedication and unwavering faith, Eric strives to transform lives and lead others to experience the profound love and joy found in a relationship with God.
---